Dasuquin
Here you can find answers to the most frequently asked questions about Dasuquin. If your question is not answered please don't hesitate to contact us and one of our Technical Advisors will be more than happy to help.
Please fill in our contact form, email us on info@protexin.com or call us on +44 (0) 1460 243 230.
Dasuquin is a new and innovative joint support supplement for dogs that not only contains one of the most biologically active combinations of glucosamine and chondroitin available but it also contains the patented ingredient: NMX1000® Avocado-Soybean unsaponifiables (ASU). With over 80 published and peer-reviewed scientific papers supporting the benefits of Dasuquin's ingredients you can be assured that you are giving your dog one of the most scientifically supported and complete joint supplements available.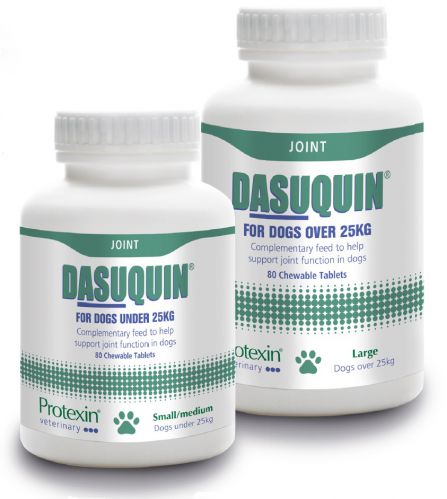 What is ASU, and how does it work?
ASU stands for Avocado-Soybean Unsaponifiables. ASU is a specific fraction of oil that is extracted from soybeans and avocados. Over 30 published studies on ASU have demonstrated the ability of this ingredient to support canine joints.
What role do the glucosamine hydrochloride and low molecular weight chondroitin sulphate play?
Glucosamine and chondroitin are essential components required for the building blocks of cartilage known as proteoglycans. Studies have shown that ASU works synergistically with FCHG49® glucosamine hydrochloride and TRH122® low molecular weight chondroitin sulphate to support new cartilage growth.
My dog is already taking a joint supplement. How is Dasuquin different?
Dasuquin is the only joint support available that contains the innovative new ingredient ASU along with the optimal amount of FCHG49® glucosamine hydrochloride and TRH122® low molecular weight chondroitin sulphate for your dog. This unique combination has been shown, in numerous scientific studies, to support new cartilage production.
My dog's food contains glucosamine and chondroitin sulphate. Do I still need Dasuquin?
Yes. None of the foods contain the same researched combination of high quality ingredients found in Dasuquin and there are no foods available on the market containing ASU. In addition, both glucosamine and chondroitin sulphate may degrade when subjected to the heat or extreme pressure in the manufacturing process of commercial dog food.
Is Dasuquin Safe? I have heard that avocados can be poisonous to dogs?
Dasuquin is extremely safe. There are no known contraindications or known interactions between Dasuquin and any drug or nutritional supplement.
Although some reactions to avocados have been reported in dogs, the ASU in Dasuquin is taken from a very small fraction (1%) of the oil produced from avocados and is not the same as actually eating an avocado. Safety studies have shown ASU to have no adverse effects in dogs.
What sizes is Dasuquin available in?
Dasuquin is available in two different sizes: Dasuquin for Small to Medium Dogs for dogs less than 25kg and Dasuquin for Large Dogs for dogs 25kg and over. Both sizes are packaged in pots containing 80 tablets.
The loading period lasts 4-6 weeks, to ensure that the active ingredients in Dasuquin reach beneficial levels. This is based are based on scientific studies which have been carried out to assess the amount of Dasuquin needed to achieve maximum efficacy for all active ingredients. Once the loading period has finished the number of Dasuquin tablets your pet receives daily can be halved. This is sufficient to maintain beneficial levels of Dasuquin's active ingredients long term. For full usage guidelines please visit our product page.
I have already completed a loading period of my current joint supplement, do I still need to complete a loading period of Dasuquin?
We strongly advise, when transitioning from another joint supplement to Dasuquin, that you do still complete the recommended loading period of Dasuquin. This is so that the combination of ASU, FCHG49® glucosamine hydrochloride and TRH122® low molecular weight chondroitin sulphate can reach peak levels in the joint within the shortest time frame possible to enable your dog to receive the maximum benefit from Dasuquin.
Dasuquin is available from your veterinary surgeon. As your pet's health care professional, your veterinary surgeon is best qualified to decide if Dasuquin may benefit your dog.